What Are Printables?
Instant Art & Information
I often get asked 'what do you mean by digital printables' or 'printables'. In today's fast-living life and habits, we like to have everything at our fingertips & easily accessible.
That is why 'printables' have become so popular.
They can come in the form of decorative art prints that can be framed in a lovely picture frame to pop on your wall. They can be motivational quotes that inspire you, planners & journals to organize your life, kick start your health & fitness, or track your finances.
How Do I Access A Printable?
Websites and shopping platforms like Etsy have a vast range to chose from. Sometimes they are free for promotions, others are for sale which you can purchase. You then have access to these 'printables' for as long as you wish and you can continue to print and reprint them.
How Do I Print A Printable?
Once you have decided what printable you like i.e on Etsy you click on the 'Add To Basket' or 'Buy it Now' button. Enter your secure payment option, card or PayPal. Downloads are then available as soon as your payments are confirmed, usually within minutes.
If you have an Etsy account, after your purchase you'll see a View your files link which goes to a Downloads page. Here you can download all the files associated with your order. You will also receive an email to confirm your purchase and link.
If you checked out as a guest (visitor to Etsy/new customer) you will find a link to download your purchase in the purchase receipt email sent to you.
You then need to download the file to your desktop computer or mobile browser (not an app as it won't work).
Open up the file which is usually a PDF or JPG file. Most designs are already sized for you especially if a PDF. With JPGs, you can play around & resize to how you want it if you have the facility i.e photoshop/paint. You can then print it out on your own printer. Alternatively, you can take the file to a printing shop especially if you want a larger print than A4 which most domestic printers can do. Print as many copies as you need/photocopy them if you need multiple pages of the same design i.e like a weekly planner.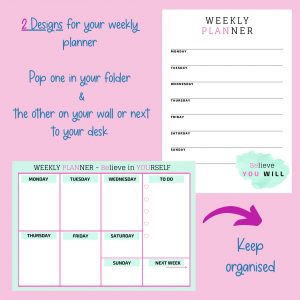 If downloading free printables from a website you will usually have to sign up to a mailing list. From this, you will be sent an email with a link which you can click on and it will open up a downloadable file.
Decorate Your Walls
The great thing about 'printables' is you can change the look of your room instantly by popping a different graphic or artwork in the same frame as you used before.
A great option if your kids get to like a different character, theme, or colour for their bedroom!
Personal Planners
You can also mix & match pages from different printable planners and graphics. Make your own printable personal planner which can take you through a whole year and beyond. Print the pages and pop into a binder, file, disc system or just attach to a clipboard. I know I have multiple planners/journals & diaries to help keep me organized.
Pop over to my Etsy Online Shop to check out some of my latest Printables